WHY CHOOSE US?
Dedicated Supplier
Koldpak is a dedicated refrigeration and air-conditioning supplier
---
Knowledgeable Staff
Friendly, knowledgeable staff speak your language saving you time and frustration
---
Reliable Experience
Koldpak is a third generation Australian owned company, ensuring we have the experience to provide you with sound advice and reliable service
---
Project Design
Koldpak is known for efficient and cost effective project design to provide you with innovative world leading products
---
In-House Manufacturing
With a vast range of inhouse manufactured condensing units customisation has never been easier
---
WHAT DO OUR CLIENTS THINK ABOUT US?
Don't take our word for it, here is some direct feedback from our existing clients…
I had the pleasure of experiencing what makes Koldpak different early on in the Rupert Hungerford era. Rupert had a great range of experience in our industry and was responsible for training dozens of apprentices around Australia in his long career. Rupert's enthusiasm for teaching and ingenuity for problem solving carried on into his wholesaling career and has been continued by the new generation at Koldpak. Koldpak staff have continually offered service and technical advice beyond expectations, for this I will always recommend them with confidence.
Brittney and Filly have been an absolute pleasure to work with. Their phone manner and service have been second to none. I really enjoy working with these ladies nothing is ever a problem. Great work by all.
From the moment you walk through the front door, Koldpak are ready to help.
For a small independent, they exceed the national based suppliers.
There is always stock of whatever you want. By the time you leave, you are readily sorted.
Friendly capable staff who go above and beyond, and easy to find product.
My downtime is important; that's why I choose Koldpak
We have been dealing with Koldpak for over 10 years and have always received personal, helpful and professional service from all of their staff.
Custom work is not a problem and equipment supplied can always be designed to suit our individual requirements. We always feel very confident that supplied equipment is engineered correctly and more than adequate to do the job.
We would be more than happy to encourage customers to give Koldpak a go.
---
---
LATEST NEWS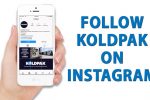 We are excited to announce that Koldpak is now on Instagram! We do so many exciting things here at Koldpak and now we have a platform to share them with you Why not celebrate with a give away? The first 100 followers will go into a draw to win a Summer Prize Pack! Simply log…
The free information night held this month was a great success with many customers finding great value in what they learnt. Our own engineers Mr Vaughn Strydom and Mr Marcus Prins along with motion technology engineers from Schneider Electric gave an enlightening presentation about Schneider Variable speed drives and the internal workings of Copeland Scrolls….